About AddOns
The tight integration between the two is guaranteed to leave your customers feeling like their support experience is deeply rooted in their purchasing experience. If you have a WooCommerce store, you must be providing support. But how long does it take to your support agents to figure out what product the ticket is related to or which order was passed? By adding this add on, supporting clients becomes very easier.
Easy to Use
Everything is tied together: support tickets, products and orders. Once the add-on is installed, every single ticket will be linked to its order. The client can also specify which product within the order the ticket is related to. In just seconds, agents will know what the request is about, improving their efficiency and reducing the time to first response.
Ticket Detail
WooCommerce orders list will be shown on ticket detail of each respective ticket.
Ticket In WooCommerce
User can also views all of his tickets with these tickets options like ticket status, product and order in wooCommerce dashboard.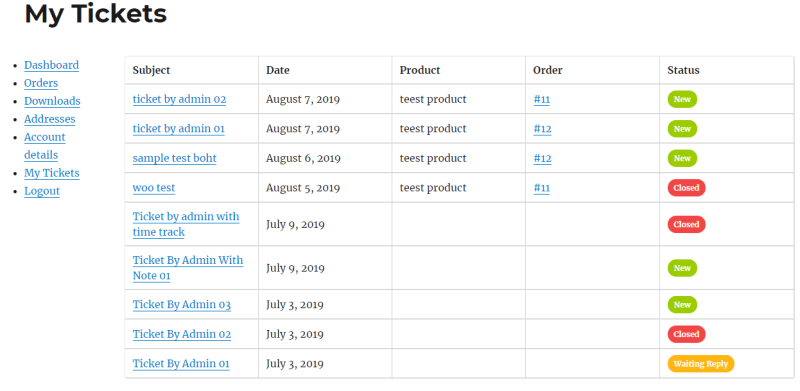 Version History
Here is the detailed version history below
1.0.9

Security update.
1.0.8

Security fix.
1.0.7

Bug fix, if mail plugin deactivated.
1.0.6

Error fix, if mail plugin deactivated.
1.0.5

Security update.
1.0.4

Support social login.
1.0.3

Link bug fix.
1.0.2

Improve installation.

Change order field from combo to text for agent/admin.
1.0.1

Redesign.
1.0.0

Just release 1.