About AddOns
Successful businesses run on data. So how would you like to see an immediate data of your support operations as soon as you log into your WordPress administration area? With this add-on you can get that. Take a look at the wealth of data you can access when you log into your WordPress Admin Dashboard. Key data widget include Latest Ticket and Ticket stats.
Admin
Admin will be able to control the placement, layout, maybe decide if a widget can be viewed. We provide options to permanently disable each widget. And, to temporarily disable any one or more of them WordPress makes this easy for. Admin can use the normal WordPress Admin controls to add or remove widgets as well as move them around to create a layout that works for you.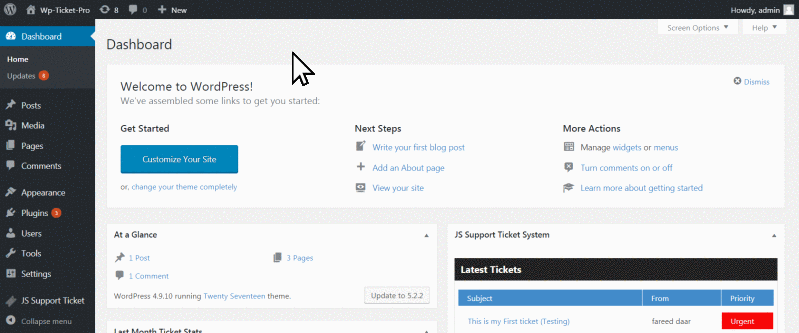 Version History
Here is the detailed version history below
1.0.6

Bug fix, if mail plugin deactivated.
1.0.5

Error fix, if mail plugin deactivated.
1.0.4

Security update.
1.0.3

Admin only access.
1.0.2

Improve installation.
1.0.1

Redesign.
1.0.0

Just release.